Rantopad MXX review
Rantopad MXX
Pros
Great value for the price.
Adjustable white LEDs have many modes.
Detachable braided USB cable.
Lots of hotkey shortcuts.
Cons
Instructions are only in Chinese.
No indicators on keys for many of the functions.
Buy on Amazon
Read user reviews
Rantopad MXX Feature Overview
Gateron Blue mechanical switches.
White backlit keys.
Media control hotkeys.
Aluminum top panel.
Detachable braided USB cable.
N-key rollover.
The Rantopad MXX mechanical keyboard is a very affordable mechanical keyboard in a tenkeyless layout. It comes with Gateron Blue switches, which are comparable to Cherry MX Blue switches. The switches are clicky and tactile. It's a great budget option, but it wouldn't hurt to check out an article we wrote that covers the best mechanical keyboards for every budget.
Rantopad MXX Unboxing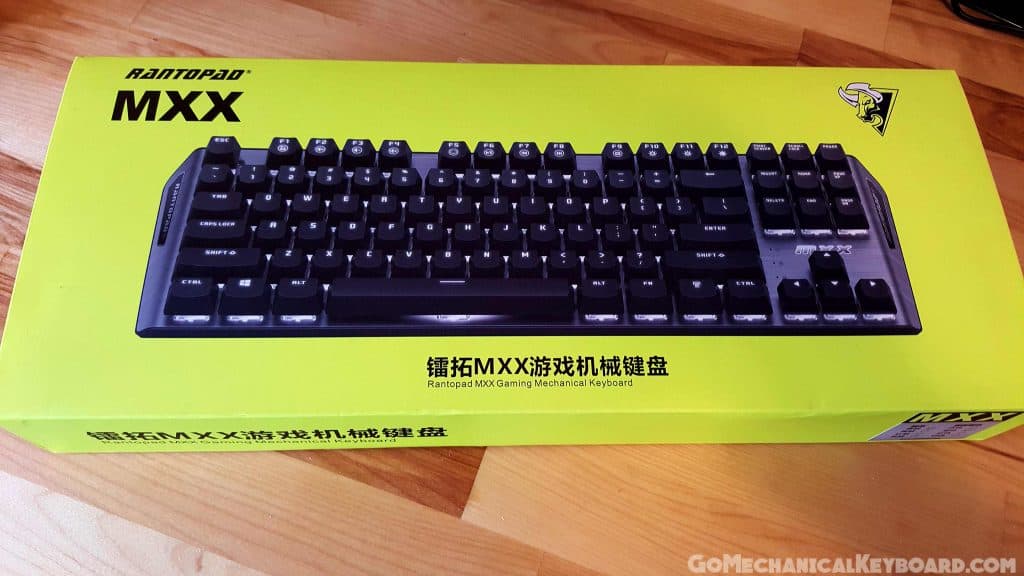 The Rantopad MXX comes in a super bright safety-yellow box sporting primarily Chinese text without any English other than "Rantopad MXX Gaming Mechanical Keyboard".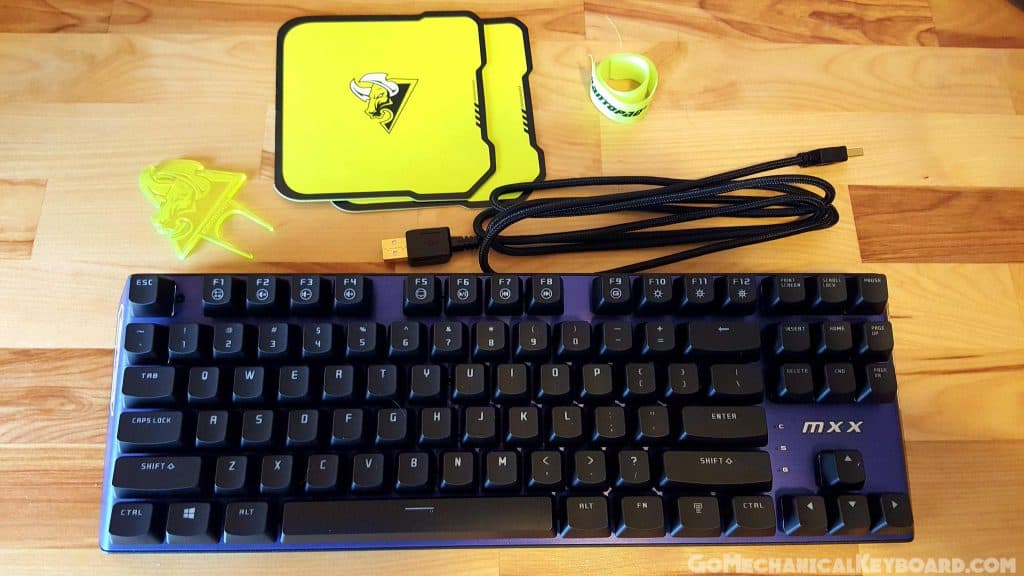 After unpacking all the contents of the box, here's what we find.
Rantopad MXX mechanical keyboard.
Detachable USB cable (type A male to type A male).
Cable Velcro
Advertising booklet and instruction manual (both completely in Chinese! Rantopad has informed me an English manual will soon be included)
An awesome keycap puller
Such a unique keycap puller, I had to get a close up for you –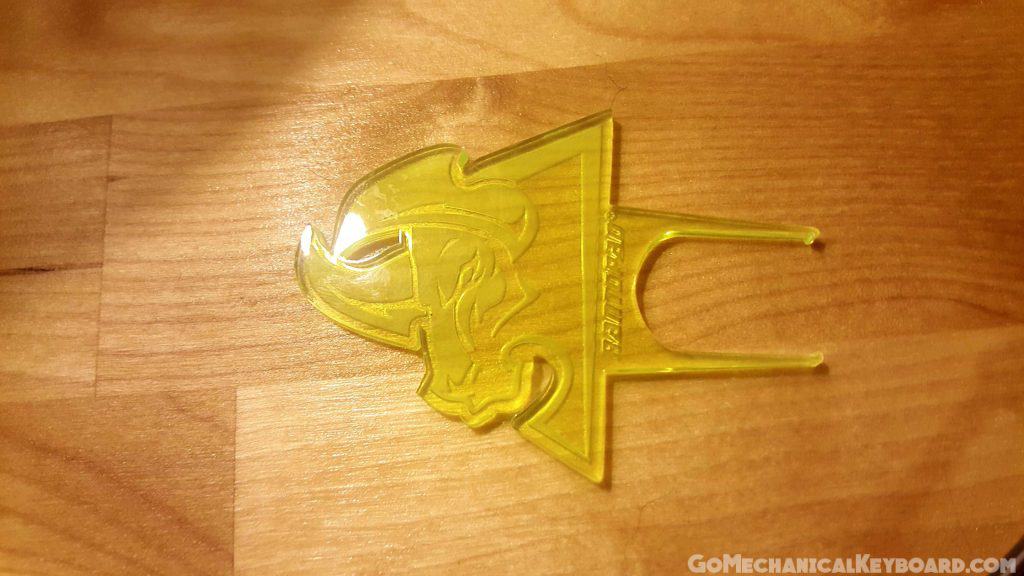 It's a great translucent plastic with the excellent Rantopad bull logo!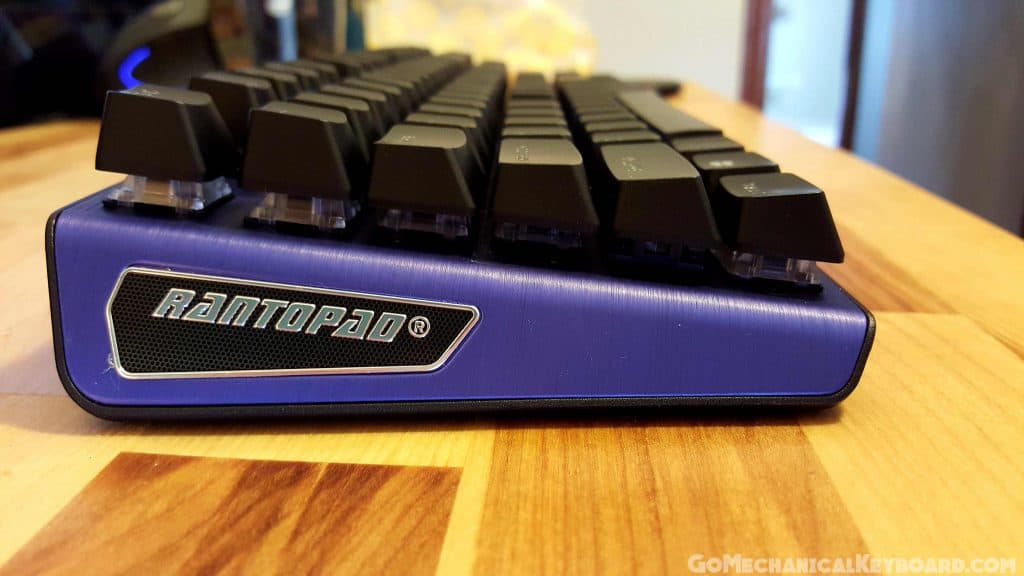 Looking at the keyboard from the side, you can see that the metal top plate curves around the edges. The design of this keyboard is somewhat unique, and that becomes more apparent when we look at the it from the bottom…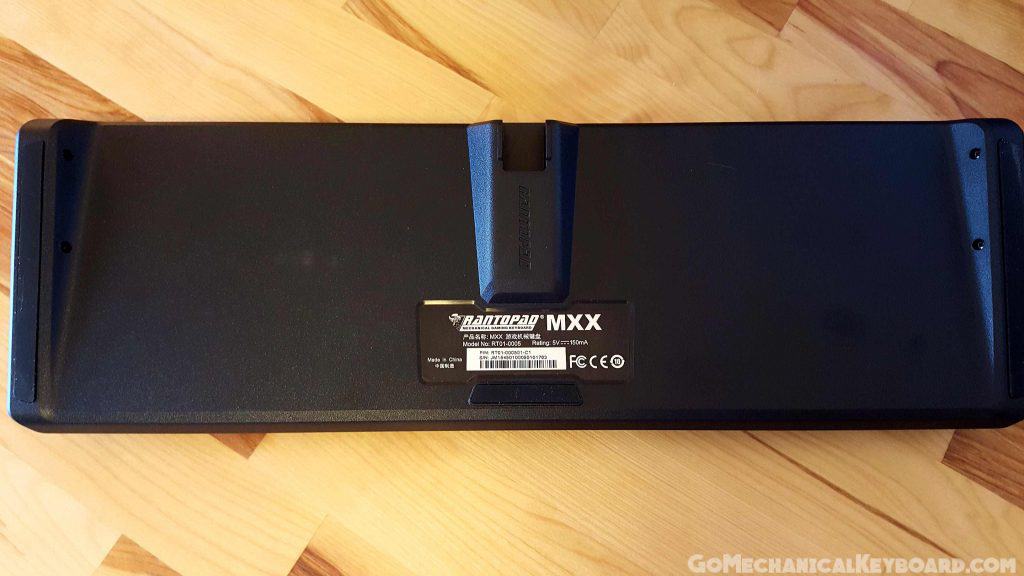 From this view you can see that those edges of the keyboard actually curve out, while the rest of the keyboard is actually suspended in the air rather than flat to the desk like traditional keyboards. Also nice is the long rubber pad that runs the length of the edge of the keyboard on both sides to prevent slipping.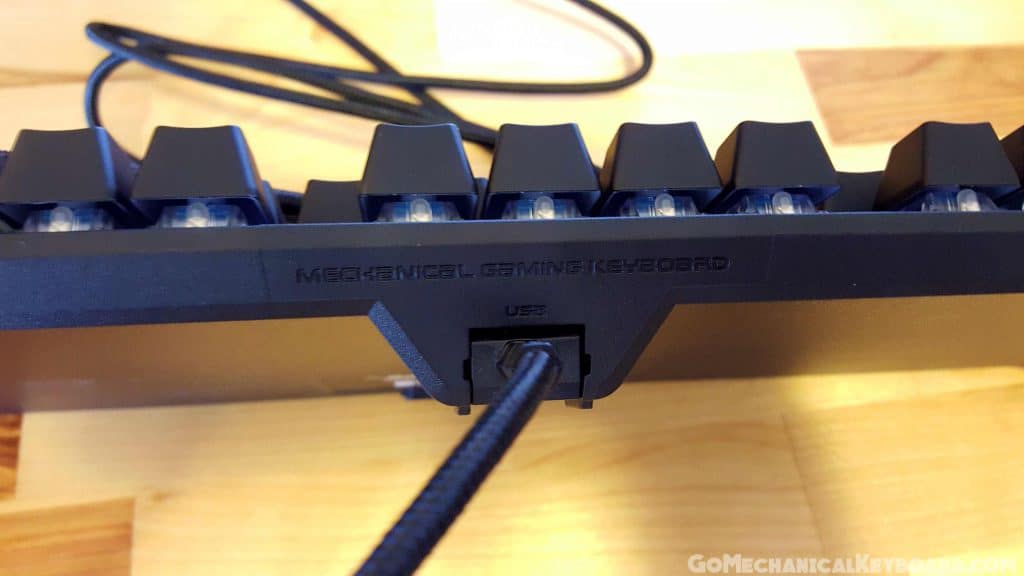 Here you can see how the detachable USB cable works. It simply slides into this slot at the middle-back of the keyboard.
Rantopad MXX Keys and Switches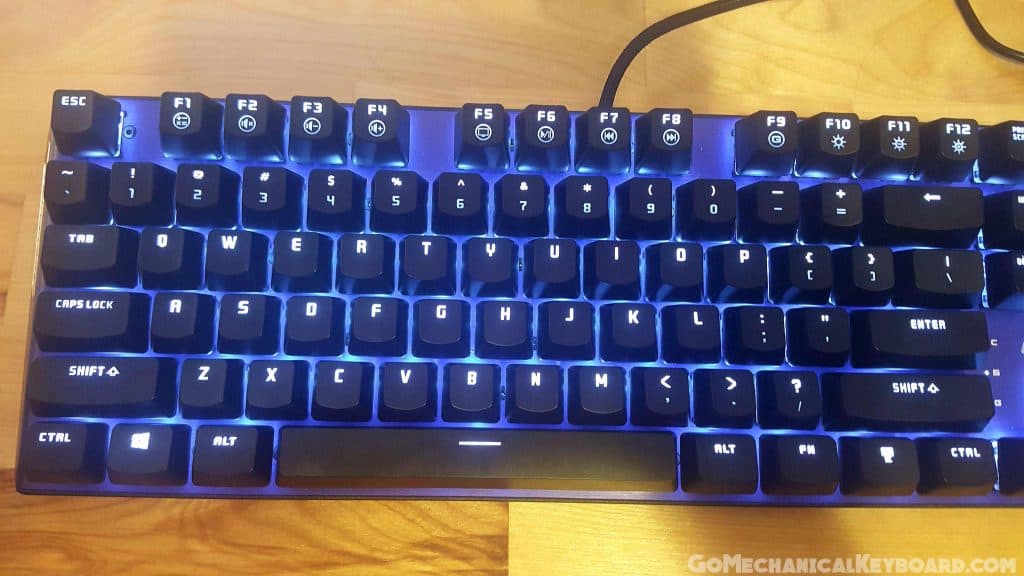 The Rantopad MXX has a nice and subtle typeface to the keycaps, just how I prefer. Nothing silly or screaming out for attention. The keys themselves feel pretty standard, nothing exciting or new.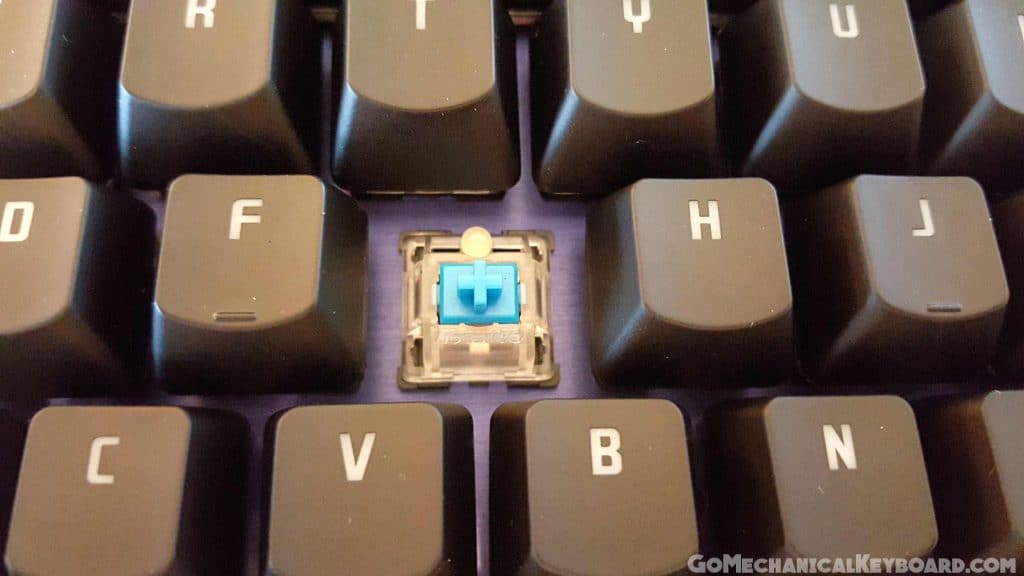 The LEDs are top-mounted on the Gateron Blue switches. Similar to the Corsair STRAFE RGB and HAVIT RGB, the switches have a clear housing that allows the light from the LEDs to spill around them more easily.  To hear these switches in action, check out our typing test video below –
Overall, these switches are similar to Cherry MX Blues. Gateron Blue switches are loud, clicky, and tactile. Gateron is probably the best known Cherry MX knock-off manufacturer, so take that for what it's worth. I had no issues with the switches on this keyboard, and I don't expect you will either.
Rantopad MXX Backlighting
The biggest challange of using this keyboard was figuring out how to change the backlighting settings! So much so that I had to make a video to help guide you through the process. It's not hard at all, but with the manual being in Chinese, it's not straightforward.
The Rantopad MXX has two main backlighting modes that you toggle between with the Fn + F10 key. The first is customizable mode that will let you set individual keys to be backlit or not. By default, this made has the WASD and arrow keys lit. By pressing Fn + Delete, the status lights on the keyboard will blink, and then you can change which keys are lit by pressing them. Once you have the desired keys lit and unlit, just press the Fn + Delete combo again.
In the other pre-built lighting profile mode, you can cycle through the different lighting modes by pressing the Fn + Page Down keys.
Wave – the light dancing across the keyboard in a moving gradient of light.
Ripple– when you press on a key, light will ripple out from it in a circle, like a stone dropping into a pond.
Pulse– the keys will light to max brightness, then fade to dark repeatedly.
Reactive – on each keystroke the key will light up and gently fade out.
Static – all keys will remain backlit.
Blackout – all keys are backlit, but once a key is pressed that key and others in the area dim.
There are 4 levels of brightness for all modes, and off.
You can also adjust the backlighting on the MXX logo from either static (max brightness) and pulsing modes, but you can't disable it. You can change modes by pressing Fn + L.
Rantopad MXX Overall Verdict
If you're simply looking for a backlit tenkeyless mechanical keyboard, the Rantopad MXX is a great value. You'd be very hard pressed to find a backlit keyboard with as many features at this price point, and everything on the keyboard feels solid. If it isn't your style, even with all of its great features, read through our best gaming keyboards article to find something that works for you.
Buy on Amazon
Read user reviews