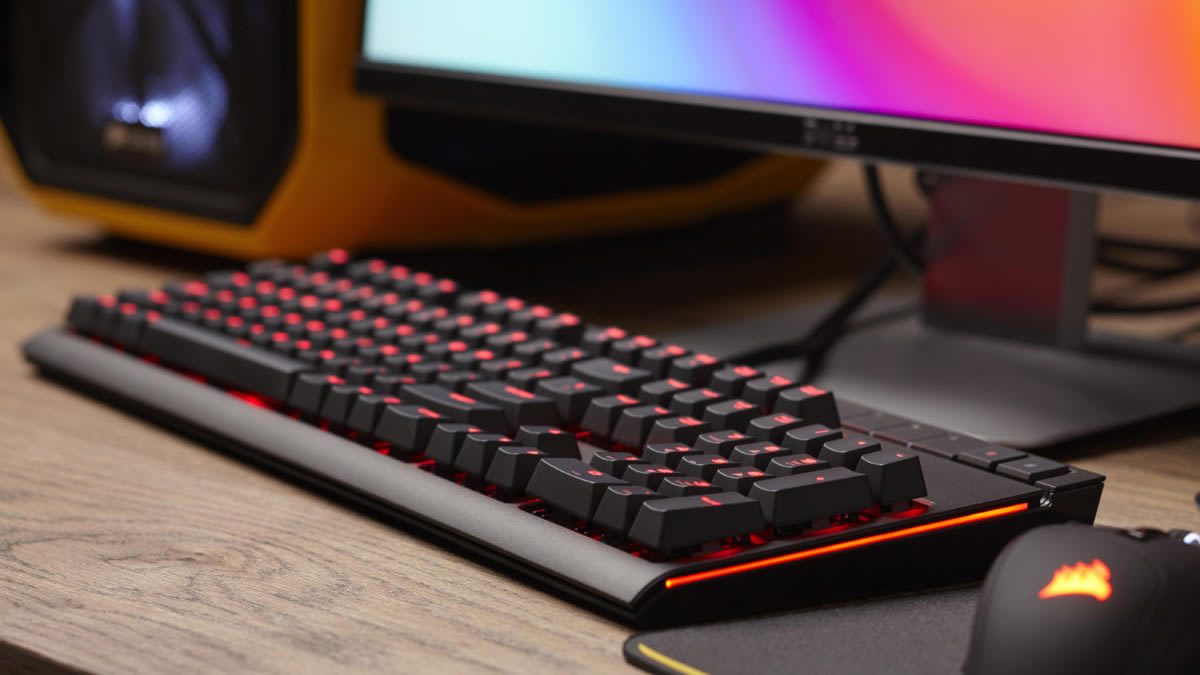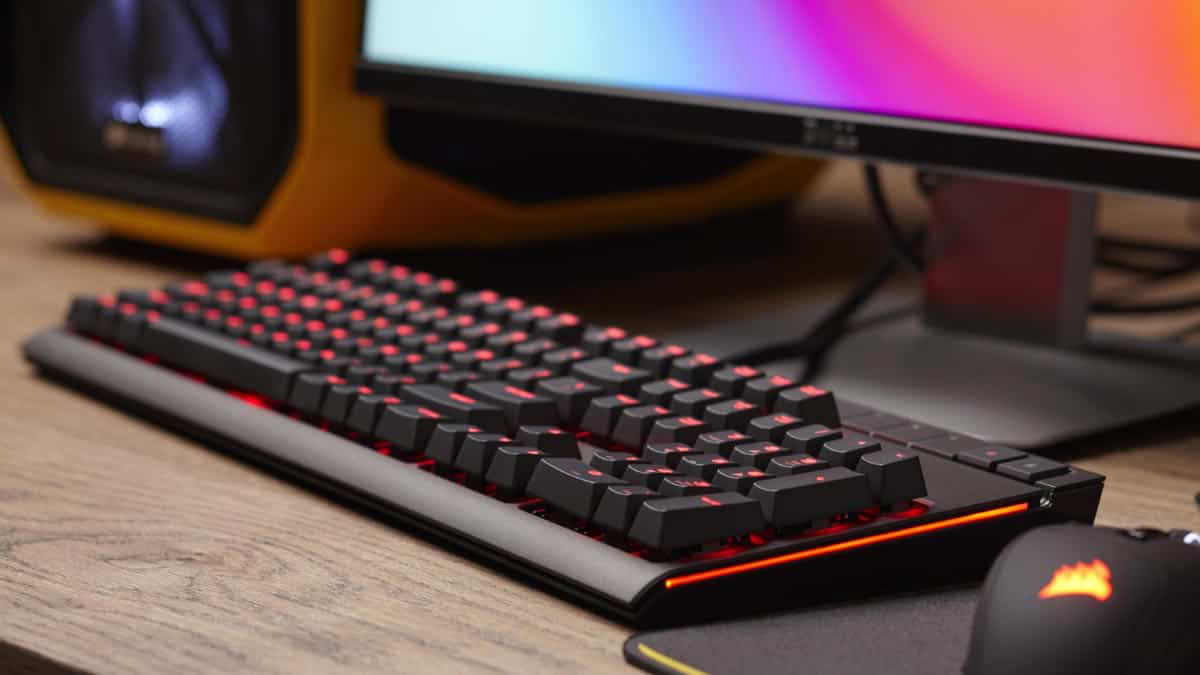 Corsair STRAFE vs. K70 – mechanical keyboard showdown
| | | | | |
| --- | --- | --- | --- | --- |
| Keyboard | Switches | Backlighting | Media Keys | Extra Features |
| STRAFE | Red, Brown | Red, RGB | No | USB Ports |
| K70 | Red, Brown, Blue | Red, Blue, or RGB | Yes | Wrist rest, USB Ports |
Corsair has just released their new STRAFE mechanical keyboard, a budget-priced gaming mechanical keyboard with some nice features that you usually don't see in a keyboard under $110. Many people have been wondering if it's a better buy than the Corsair Vengeance K70. Let's take a look at the features of the STRAFE in the breakdown below, then compare the two. You may also want to check out our Corsair STRAFE RGB review, which features Cherry MX Silent switches.
Corsair STRAFE Features
Buy on Amazon
Read user reviews
 STRAFE Switches
The STRAFE comes in three different switch options. Cherry MX Red, Cherry MX Brown, and Cherry MX Blue are all available with the Corsair STRAFE. Red switches are the community favorite for gaming, as they allow for quick keypresses with no tactile bumps. Browns offer light tactile feedback, useful for when you need to feel exactly when your keystroke is being registered. Blues are light, tactile, and clicky. Many people consider Blue switches to be the quintessential mechanical switch, they are fun to type on and the sound will almost remind you of an old typewriter!
Corsair suggests MOBA players might prefer Browns. while FPS players might prefer Reds. Blues are a great option for anyone, but know that they are loud and if you game with friends, they may comment on the noise of your keyboard!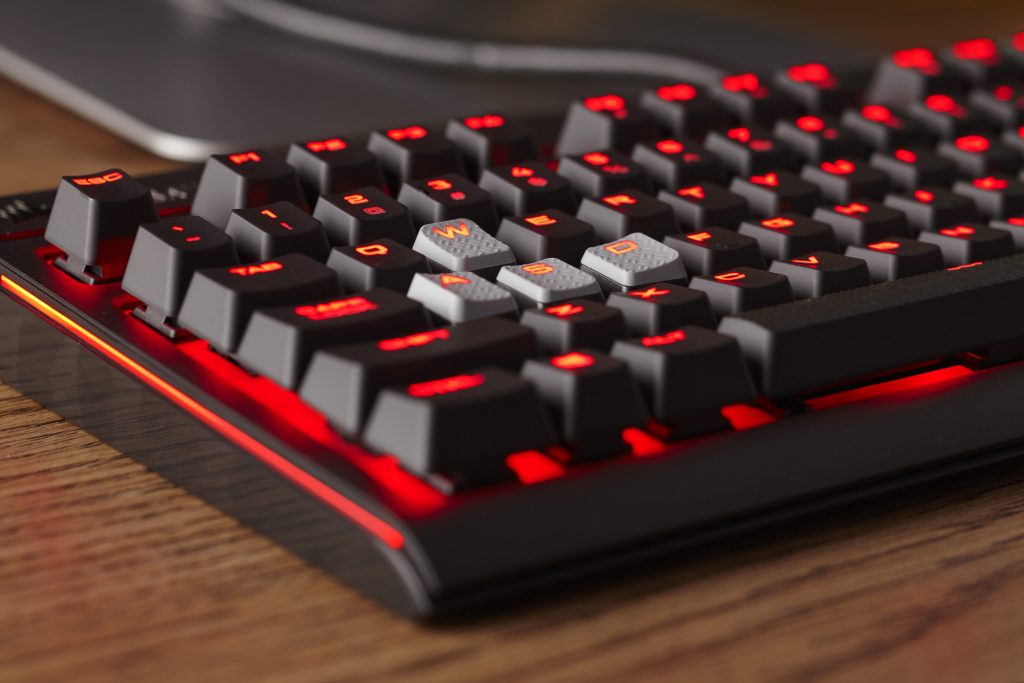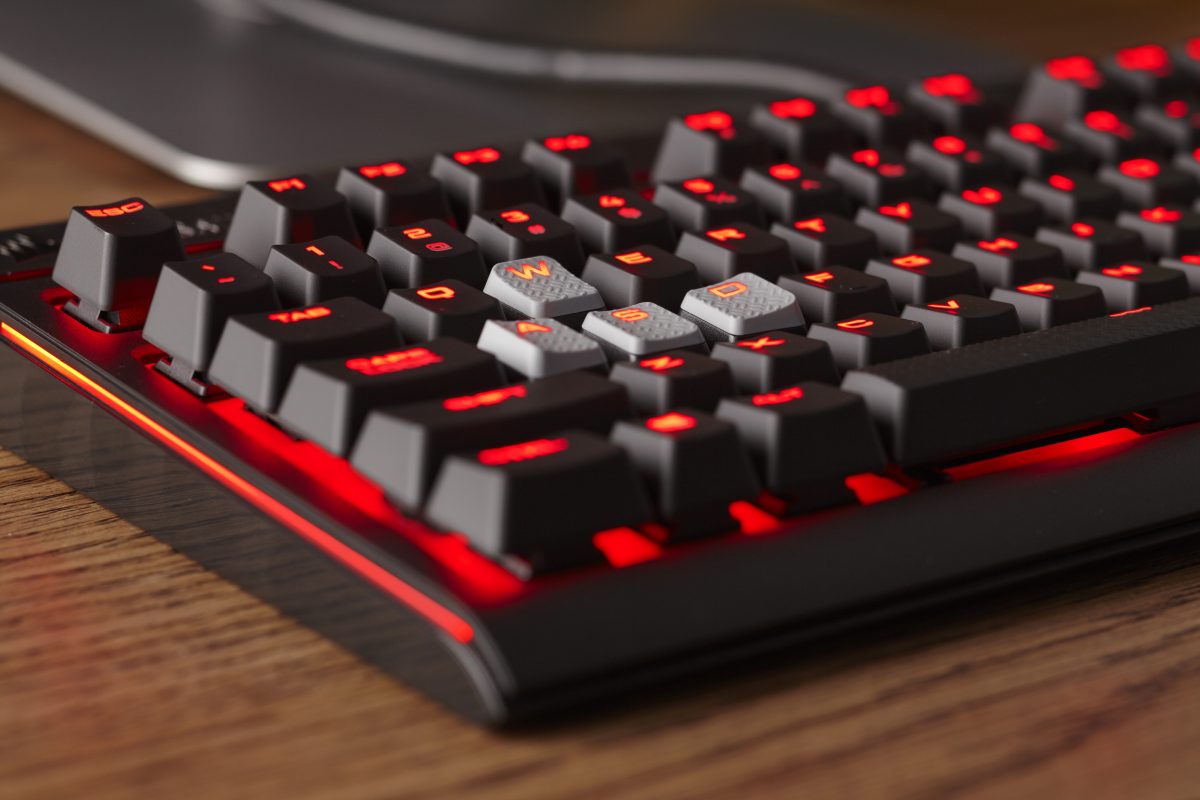 STRAFE Keys and Software
The first thing you'll notice about the STRAFE mechanical keyboard is the individually backlit keys. the standard model only displays one color – red – but they are fully programmable and customizable as to the brightness and which keys are lit. Users can use one of Corsair's 6 different lighting profiles or create their own. There is also a STRAFE RGB model, which offers fully customizable backlit color options. More about that later.
Seeing as the STRAFE is aimed towards gamers, the keyboard has specially contoured and textured keys for both FPS and MOBA games which many gamers will love.
Though no dedicated macro keys exist, you can fully program any key to run any macro when pressed. There's also no dedicated media keys, but you can use a Function key to access quick media controls.
STRAFE RGB
Buy on Amazon
Read user reviews
The STRAFE RGB is a newly released version of the Corsair STRAFE that really aims to please the gamer who wants an exciting and flashy keyboard. The Corsair STRAFE RGB has a white backplate, designed to reflect the most light possible and they even made the RGB LEDs brighter than the standard red LEDs in the base STRAFE model. Check out the video below to see these awesome lighting effects in action!
The STRAFE RGB also comes with a detachable, soft wrist-rest that isn't included in the non-RGB model.
STRAFE USB and Rollover
The STRAFE mechanical keyboard will have a one built-in USB hub on the keyboard which may be useful to plug in a gaming mouse or headset easily. The STRAFE also has full anti-ghosting technology, so you'll never have to worry about missed keystrokes.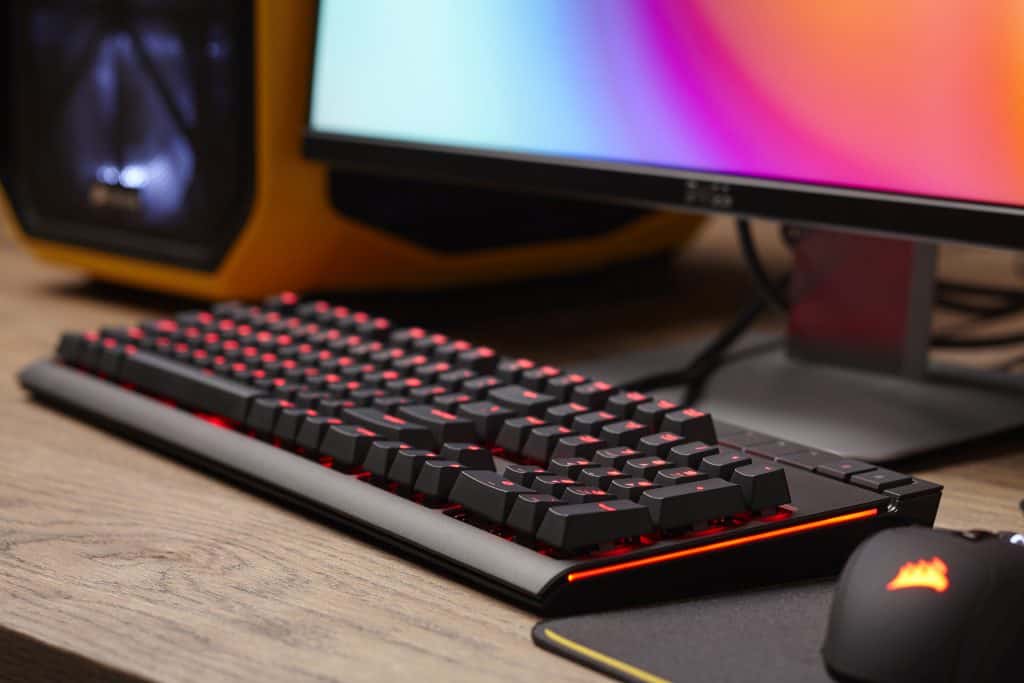 STRAFE vs K70 – Which Should You Buy?
The Corsair STRAFE is a great budget mechanical keyboard for gaming, and a recommended buy on its own right. It has a ton of great features you don't typically see at this price range, most notably individually backlit keys.
If you're willing to spend more, you might want to take a look at the Corsair Vengeance K70, which has many of the same benefits but also has an aluminum chassis that feels a bit more solid and dedicated media buttons. The K70 also has the option of blue backlit LED's and RGB backlighting (though it costs more). It doesn't come with contoured MOBA keys or USB pass-through port (on the RGB model), however.
Really you can't go wrong with either of these mechanical keyboards. It's up to you to decide if the aluminum chassis of the K70 is worth the ~20 extra bucks. You might find the STRAFE to the better value, especially if you play MOBAs. If neither appeal to you, feel free to check out our list of other Corsair keyboards, our article covering the best mechanical keyboards, or our article covering the best gaming keyboards.