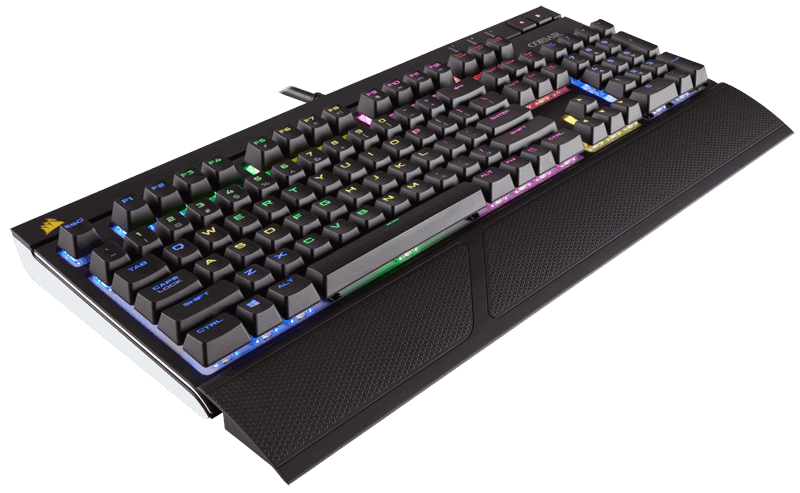 Corsair STRAFE RGB review
Gaming keys, keycap puller, wrist rest
Amazing RGB backlighting and built-in light effects.
Fully customizable backlights and macro programming.
Cherry MX Red switches are perfect for gaming.
Textured keycaps feel great for gaming.
Low-profile case with USB pass-through.
Bulky, non-detachable USB cable.
USB pass-through requires a 2nd cable to work.
Non-standard bottom row (preference).
Silent switches not available at all retailers.
Corsair's latest gaming keyboard, the STRAFE, is freshly available in an RGB model that I got my hands on for this review. It's a great mechanical keyboard with Cherry MX switches, and it's priced a bit cheaper than a Corsair K70 RGB. You can see where we compare these two mechanical keyboards in our Corsair STRAFE vs K70 article.
The STRAFE is available in Cherry MX Red and Brown switches for all retailers. To get the Cherry MX Silent switches, you need to go directly through Corsair's website, or get it from Best Buy. I find this exclusive deal to be a big negative and limiting for mechanical keyboard enthusiasts, hopefully it's not a sign of more things to come for the industry.
Unboxing the Corsair STRAFE RGB
The flashy Corsair STRAFE box tells you all about it from the outside.
Here's the Corsair STRAFE box opened up, ready to be unpacked.
All the Corsair STRAFE components unpacked, on display. One mechanical keyboard, a set of gaming keys and keycap puller, quick start guide, and warranty information.
Here's a shot of the Cherry MX Silent switches with a clear housing. The LED is actually under the switch, as opposed to many backlit switches which have the LED externally placed above or below the actual switch. The backplate is painted white for maximum reflection.
From the side, you can see the profile of the keys. I love the ergonomics of the keyboard rows not sloping up at a steep angle. The white plastic panel on the side of the keyboard is a glossy plastic, and the top panel is a more rugged and textured matte plastic.
The included gaming keycaps, along with the spacebar and wrist rest have a textured, rubber grip to them which I actually find enjoyable for gaming.
The bottom of the keyboard is nothing crazy. It would have been nice to have bigger rubber pads, and rubber padding on the legs for those with slippery desks.
Here's a view of the USB pass-through on the back of the STRAFE. You'll notice the USB cable for this keyboard is quite thick and non-detachable.
In order for the USB pass-through to work, you'll need to plug in a 2nd USB cable to your PC.
Finally, here's a shot of the keyboard lit up. It's hard to capture the lights in images, so check out the video below to see what these RGB backlights are capable of!
Pretty awesome, eh? The Corsair STRAFE RGB has 9 special built-in lighting effects. You can also set individual custom backlighting on the keys, which work in correspondence with some of the lighting effects. In the video above, I left the custom lighting set to no backlights, so when you're seeing keys not lit up that's why.
Cherry MX Silent Switches
One of the biggest draws of this mechanical keyboard is the Cherry MX Silent switches which are currently exclusive to the Corsair STRAFE RGB. These switches are similar to Cherry MX Reds. It has a light and linear activation force of 45 cN, but where it differs from regular Cherry MX Reds is an internal "tappet" that helps suppress noise when the switch bottoms out and comes back up.
In my experience, it really does make a big difference with the sound from these switches. These are definitely the most quiet Cherry MX switches available today. You can hear me go to town on these keys in the video below.
Corsair STRAFE RGB Mechanical Keyboard Overall Verdict
Overall, the Corsair STRAFE RGB mechanical keyboard is one of the best gaming mechanical keyboards you'll find today. For the price, it's the best gaming RGB mechanical keyboard you'll find.
One of the design decisions I most appreciate with this mechanical keyboard is how low-key and professional the keyboard looks when the backlights are turned off. The case is very simplistic and streamlined, and Corsair lets the user decide how crazy to get by customizing the RGB backlights.
If you're looking to get a Corsair STRAFE RGB, I would recommend going with the Red or Silent switches, depending on your preference. I would say that Reds are a slightly better for gaming and aren't that loud if you type softly, but if sound is a big factor for you then the Silent switches are a good choice.
If you prefer to drown out your mechanical keyboard with an your computer speakers, we have a list of the best gaming speakers that should be of interest to you!